When we first rescued Sally back in 1999 we were told that she had raced at the Oxford track, and had been moderately successful.  Then one evening a Greyhound racer in Swansea had taken a phone call to be told that if he "wanted a couple of dogs, come up over the weekend or else they'll be gone".  He went up and brought back Sally and her sister who were in a less than perfect state.  He fed them up, got them back in condition and raced them at Swansea track for 18 months or so.  After her racing days they contacted Greyhound Rescue Wales and so Sally found us, and her sister Lynsey went to Pembrokeshire.
Greyhound Rescue Wales held its Summer Fairs on Bank Holiday Monday at the Swansea track, just after racing had finished. This gave an opportunity for the trainers/owners to see us and what GRW did, to plant the seed that they could hand their dogs to us after their days and not have to dump them or even worse. At the first fair we attended we (Armelle, my Mam and I) were standing with Sally and we heard someone call her name. A teenage girl came over with her mother and it turned out that they were the family that had brought Sal back from Oxford. Sally was so excited to see them – it was wonderful to see – but the most amazing thing was when she saw the girl's father, the man who had saved her. She barked, and jumped up on his shoulders, tail wagging and licking his face. He was also so pleased to see her, and that she had found a home.
We learned that Sal and her sister had been treated well, and that they took it in turns to come into the house, where they loved to watch TV (as she did with us too). He also told us about how she had come from Oxford to Swansea. His daughter said that both girls were lovely but Sal had the nicest temperament! We would occasionally see the girl and her Mum when we did Swansea street collections, where they would make a bee-line to us to see Sally.
Sal was a wonderful dog, who spent a lot of time with my mother and they bonded so well. She adored my mother, and the adoration was mutual – I cannot over-emphasise the love they felt for each other – you can see it in the photo of Sally resting her head on my Mam's foot on one of the Thursday evenings we all spent together (when her Nana came to doggy-sit in the afternoon). Mam became a rescued-greyhound evangelist, telling anyone who would listen about the tough lives many ex-racers get and what gentle loving pets they made. Sal crossed the bridge in 2008 and my mother's health both physical and mental, began to fail not long after. I am inclined to believe that Sally's interactions helped to keep her active and without Sally, she lost a bit of her spark. We had fosters and then Sammy but by then her health was failing, and within a fortnight of Sammy passing Mam had a fall and ended up in hospital, then in nursing care.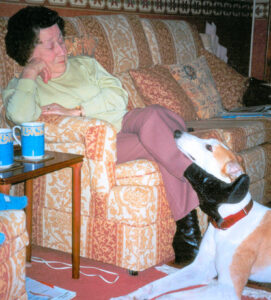 Here is the strange coincidence. After hospital, then her first nursing home, I got Mam transferred to a home in the next village to us, only a mile away. There we visited as often as we could, usually every day. Mam had been there for few years when, on a Friday evening we went to visit. As we were going to the door, one of the Carers was leaving and she held the door open. Our Penny was with us, as she loved to go to the home to see her Nana and the other residents, and the lady bent to greet her. As she fussed her, she asked her name and age, and told us that her father had kept greyhounds, and they'd raced at Swansea track. In fairness, this was not an unusual thing to be told when we gave our greyhound talks. She asked who we were visiting and then we all said good night.
We didn't see that carer for a few days as she must have been doing evening shifts or been off, but then we bumped into her again on another evening visit. As she greeted Penny, I asked her whether she was Mr Davies's daughter.
She looked surprised, "Yes, I am." As she answered we all suddenly had that spark of recognition between us.
I told her that we had met before, and that we were the ones who had homed Sally. "I thought so!" she exclaimed. "I saw the photo in your mother's room and thought it looked like Sally."
She wanted to know about her, so I told her Sal had lived a long life, had many adventures, had loved my Mam especially, and lived to over 12 years old.
She was so pleased to have seen us, and said that she would tell her father, as he and his wife still talked about her. After Sally his daughter had told him that he was not to part with his dogs any more and they all now finished their days at home (probably watching TV).
We only saw her once more, the following week. She came to find us, and to say that her parents were so pleased to hear that she had seen us, and that we had told them about Sally. He was so pleased when he had been able to ask her, "Did she have a long and happy life?" She answered that indeed she had, and that she'd had a lovely home and had lived to over twelve.
We hear so many stories about the cruelty or just insensitivity of greyhound racing, but here we had an example of how much a trainer loved his dogs and they loved him too. I am sure that most trainers and dogs have a good relationship, if not many as good as Sally and the Davies's, but it's something I try to point out when we give greyhound talks.
This is the story that I try to end our talks with, and yes, it does bring a lump to my throat, even now. An amazing story about an amazing greyhound.