Crafty Dog Preserves Cymru – As Seen on TV!
Here's Our Current List of Jams, Chutneys & Marmalades
For Our Easy Mail Order 3 Click Process Click Here
For More Information on Our Wonderful Preserves, click Here for Jams or Here for Marmalades or Here for Chutneys
Made in Our Kitchen and not in a Factory!
We are artisan food producers, making a premium quality product by hand in small batches here in South Wales.  When we say "Handmade in Wales", our jams, chutneys and marmalades truly are, made by us here in our own kitchen.  We use the best quality products we can get those hands on, and even import some ingredients if we think that the high quality warrants it.  
We make some of the usual suspects, such as blackberry jam or cherry jam, but then we also make our own special flavours such as Blackcurrant jam with Creme de Cassis French liquer, or Luxury Apple Chutney with Apellation Controlee Calvados apple brandy from the Pay d'Auge in Normandy (Mrs Crafty Dog is half French, after all!). 
One of our most recent products is Black Forest jam, made from dark cherries and a chocolate syrup which gives a hint of chocolate, and takes you back to the Black Forest Gateau of the 1970's but without all the calories! We also make an Orange Choccy Marmalade – just like jaffa cake on your toast! Our Gooseberry & Ginger Jam was inspired by a dessert we had one Christmas which we tried to replicate in a jam – and very popular it is too!
We Welcome Trade & Retail
We can supply trade outlets (and already do across South Wales) and also sell to the public from our premises, or at craft and food fairs. Just pop us an e-mail at info@crafty-dog-cymru.co.uk .
We also do mail order from this site in batches of 3 or 4 – so it's more economical for you as the customer. I will say that you can definitely taste the difference in our products – we really are very good!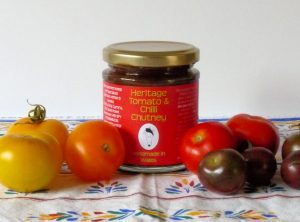 Our 5 Star Food Hygeine Rating – Click Here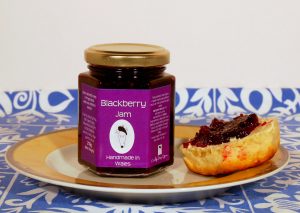 Here is a list of our range of Jams, Marmalades and Chutneys. Some are seasonal, so check with us first before placing an order.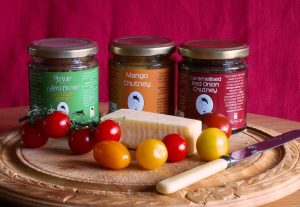 Some of our luscious chutneys.