Crafty Dog Books Cymru
Magical Tales – Stories to Amaze, Amuse & Delight – All with a Doggy twist!
We have children's animal books for 6 – 12 year olds, and books for all the family about life with our rescued ex-racing greyhounds.
£1 from every book sold here is donated to Greyhound Rescue Wales.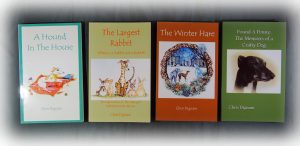 Our animal books for children are The Largest Rabbit and The Winter Hare
Our family books about our rescued Greyhounds are A Hound in the House and Found a Penny; The Memoirs of a Crafty Dog.
Click here to Shop for our books
Crafty Dog Books Cymru's publications are available from the Crafty Dog Cymru webshop here (you can have a signed and dedicated copy for no extra charge) or also from a number of outlets including Amazon on-line. (Non-UK readers can order paperback or digital copies direct from their country's Amazon store.
We are a small publishing company based in Clydach in the Swansea Valley, Wales, UK. We published our first paperback, "A Hound in the House" in August 2013 and now have 4 paperbacks and a number of digital publications. To find out more about our books, read on!
Our Books
This is the true story of Penny; the Crafty Dog. (Available HERE).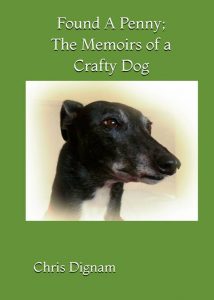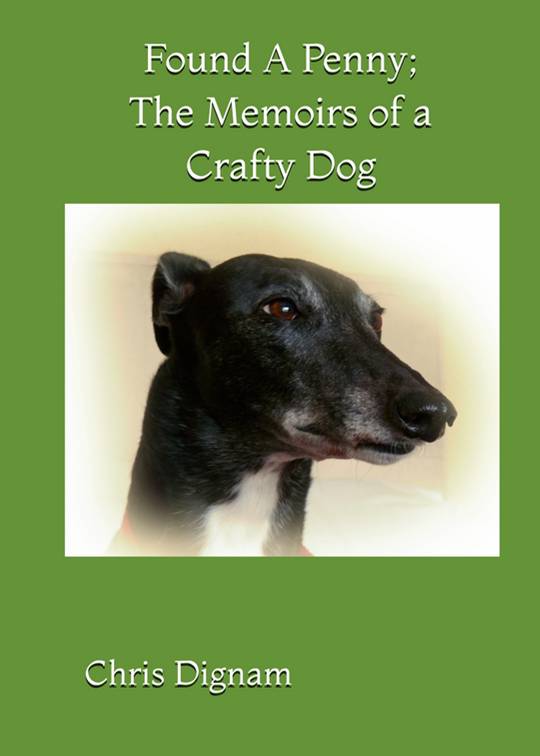 A wonderful greyhound born in Ireland and raised to race. First a winner, then a loser – abandoned and rescued to become a fabulous family member and an ambassador for the Greyhound breed. These memoirs, in her very own words, are about how she goes from ex-racing greyhound to media celebrity.
Read of her journey – from rescue to sofa – from a greyhound's point of view. Along the way she learns to cope with her Crafty family, meeting people and representing her breed at talks and meet and greets.
Penny tells of her travels and experiences abroad – including Flemish Stew! Despite her demons, she'll make you laugh, cry and then laugh again…and you might gain some canine culinary tips along the way – she is the Crafty Dog, after all!
'Penny is a beautiful, kind, loving girl and I could not love or respect her more. If I were a dog I'd marry her. (If she'd have me that is.)' – Boyd Clack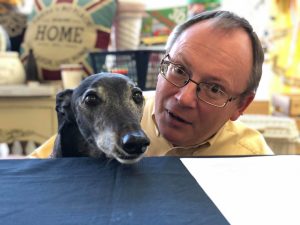 The Winter Hare by Chris Dignam (ISBN9780957693234)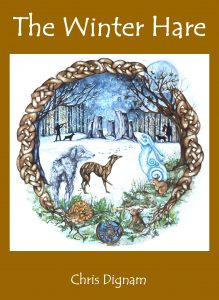 This children's book, aimed at the 8-12 years old age group but is ideal for all those from 8 – 80! Exciting, scary, touching and downright funny in equal measures.
The mighty Finn and his friends Rubbish the rabbit hound and Jeffrey the marmalade cat are surprised by a winter that seems without end. Across the fields the rabbits find spots of red and strange footprints in the snow – as they examine them a mysterious figure watches from the trees. Two hunters with guns and vicious dogs are also searching.
Who is this Winter Hare they are hunting, how can our heroes protect her and get her safely home? What if she never gets home? As all this is unfolding, deep underground a black and white army is preparing to march…
This is a tale of mystery, adventure and old magic, hairy heroes, dark villains and an ancient marmalade cat with arthritis, attitude (and more than a hint of anchovies!)
It's the 2nd in the Largest Rabbit series; it can be read as a follow-on or as a story in its own right. Age 8 – 80!
The Largest Rabbit by Chris Dignam (ISBN 9780957693227)
This is a children's book, aimed at the 7-10 age group but also suitable for adults who like a story of hairy heroes and dark villains with a laugh, some scares and a good cheer at the end! It is the prequel to The Winter Hare and introduces the characters.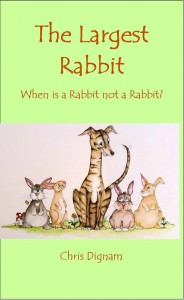 When the brown sack flew over the Rabbits' heads they could not imagine what or who was inside. Out came a very strange looking young rabbit with long legs and a funny tail. He said his name was Rubbish.
This is the story of how Rubbish discovered that it's not what you are but who you are that is important.
Along with the other rabbits, meet the incredible huge and hairy Finn, the Scottish Deerhound who lives in his secret garden, and his friend Jeffrey the brave though gummy, balding ancient and creaky marmalade cat. Together the three four-legged musketeers help Rubbish find out who he really is.
But unknown to them all, out there in the deepest and darkest part of the woods something wicked is stirring. Only Rubbish and his friends can protect the Rabbits.
But will they make it in time…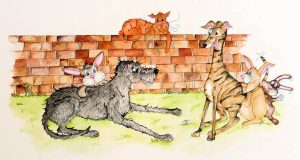 Purchase "The Largest Rabbit".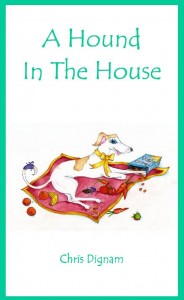 This book tells the true story of Chris and his wife and their adventures with their rescued greyhounds. It explains about living with ex-racing greyhounds, their different natures and habits, things you need to consider, lessons learned along the way (some of them the hard way!). It also explains about fostering dogs and how important and fulfilling it can be.
Life and laughter with a rescued greyhound
When Sally the ex-racing greyhound arrived she turned our world upside down. Things were never quite the same again!
I had never really considered a Greyhound as a family pet but after Sally arrived, things changed forever. The world of greyhounds and in particular greyhound rescue, was a wonderful one both deeply sad and very happy. We learned so much from these abandoned racers about their gentle nature, their incredible personalities, their wonderful sense of fun but most of all they taught us how to share.
This book tells of the arrival of Sally, the loving, clumsy, orange-eating hound and what we had to find out about how to look after her (including the emergency out of hours numbers for the local Vets!).
Then there are Queenie, Lizzie and Rhys the foster dogs, broken in some ways but always hopefully fixable.
And also gentle little Sammy, the friend to the hedgehogs.
If you love dogs, or want a story with a tear and a smile that will leave you wanting to rush out and cuddle a greyhound, then this is the book for you!
Purchase "A Hound in the House"
Short Stories
There are some short stories and collections of Blogs available to download via the Digital section of the webshop. There are some also available on the Blog pages at the top of this webpage. They include "How Rubbish the Rabbit Hound Saved Christmas", which is about how the hounds helped Santa to get the Christmas presents delivered after he had a slight accident, and "The Haunted Castle", which is a Hallowe'en ghost story for children, about ghoulies and ghosties, a heroic rabbit hound, a noble deerhound, and an ancient marmalade cat with a flying helmet and a garden hand fork.
Christmas Story – How Rubbish the Rabbithound Saved Christmas
This short story is about Rubbish the Rabbit Hound (the little brindle greyhound) and his friends Jeffrey, the ancient marmalade cat, the Mighty Finn, the deerhound, his rabbit friends from the Warren and the humans he lives with, the Maid and the Butler. On a test flight of the new sleigh Santa crash-lands in the woods and he, along with the elves and some of the reindeer, is injured. He isn't going to be up to making the Xmas deliveries so Rubbish and his pals offer to step in. Can they really do the job? Will anyone fill the Fat Red Man's boots? Will Jeffrey really be able to find the right houses? Or find anywhere at all? Who could possibly stand in for Rudolph and guide the sleigh?
Read this mini-adventure that will both delight and make you laugh as you follow the adventures of Rubbish the Rabbit hound and see whether he manages to save Christmas. This is available through Amazon kindle Here or as a Pdf file Here you can read on your pc or print off for yourself.
A collection of articles and stories titled "Greyt Expectations – Rescued Greyhounds and Marmalade Cats" is out on Kindle check out the Digital pages.
Future Projects
We currently have a number of works in the pipeline. One is provisionally titled "Rubbish and The Green Man" and is slated for publication in 2022, and involved the little rabbithound, Finn and Jeffrey in the shenanigans surrounding a plan to build a bypass through the woods. There is a ghost story also underway for publication some time in 2021/2.