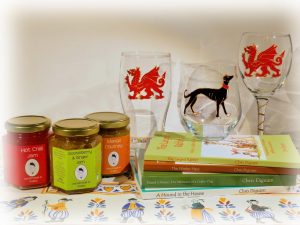 Click here for the Crafty Dog Shop.
Welcome to Crafty Dog Cymru – Croeso i Crafty Dog Cymru
Welsh Artisans creating magical memories on glass, on paper and on your tastebuds!
Welsh Art & Gifts – Glassware & Handpainted Artwork – Magical Creations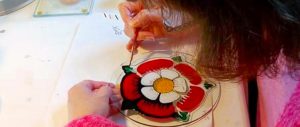 We individually hand-draw and hand-paint a wondrous range of artisan glassware from tableware to ornaments, in a wide variety of designs, including Welsh Dragons, Daffodils and Greyhounds and Lurchers, as well as commissioned work to your own design. (These are NOT transfers but individually drawn and painted pieces of art.)
(We are also happy to supply retail outlets – contact us for Trade prices.)
For Glassware & Handpainted Artwork Click Here

We are Artisan food producers of Welsh jam, Welsh chutney & Welsh marmalade, making a premium quality product by hand in small batches here in South Wales. We are proud to have maintained our 5 Star Food Hygeine Rating. (We are also happy to supply retail outlets – contact us for Trade prices.)
For Our Jams, Chutneys & Marmalades Click Here
Crafty Dog Books – Children's and Family Stories to Amaze, Amuse & Delight

Magical stories of adventure, bravery, heroes & villains for children and adults. The children's books cover a range of ages, and all have a greyhound in there somewhere! The family books tell the true story of our rescued greyhounds. £1 from every book sold goes to Greyhound Rescue Wales.
For Crafty Dog Books & Stories click here.
For more information look at the Crafty Dog Books page and the web shop

Who's the Crafty Dog?
Our mascot and Director was our Penny, otherwise known as The Penster or Lady Penelope of Crafty Dog Towers. She crossed over the Rainbow Bridge in March 2021 after a short illness. She was a great boss and business manager and will be a hard act to follow.
Read her book and see how she went from abandoned ex-racer to manager of Crafty Dog Cymru click here.