Welcome to Crafty Dog Cymru

Croeso i Crafty Dog Cymru
Crafty Dog Cymru – Welsh Artisans creating magical memories:
Glass Magic

We craft a wondrous range of artisan glassware from tableware to ornaments to commissions.
Flavour Magic

Artisan food producers, making a premium quality product by hand in small batches here in South Wales. We are proud to have maintained our 5 Star Food Hygeine Rating

Magical Tales

Magical stories of adventure, bravery, heroes & villains for children and adults. With a greyhound twist, of course!
Magical Images
If you like original, limited edition artwork, we have a range of signed and framed photographs of landscapes, castles and abbeys, stone circles, wildlife – all with that Crafty Dog touch. Check out these magical images.
Who are Crafty Dog Cymru?
We are a small business based in Swansea, South Wales, UK. We began in 2010 hand painting glassware (lanterns and suncatchers) to sell at a local Craft Market and things just grew from there. This was Crafty Dog Designs. The name came from our involvement with greyhound rescue where we first got the bug for meeting people and selling at greyhound jumble sales and fundraising at street collections. When we needed a name and logo for our craft business, what could be better than the Crafty Dog – a greyhound in an artist's beret. "Cymru" is the Welsh name for Wales which we added not to confuse us with a Crafty Dog business in the USA.

A glut of Chilli's in the greenhouse led to Mrs Crafty Dog producing the now legendary Hot Chilli Jam, the first batch of 12 jars of which we sold and never even tasted! From this the second part of the business, Crafty Dog Preserves was born. We now supply shops as well as the occasional craft fair and have a range of over 20 jams, chutneys and marmalades,(depending on the season) all still handmade in Swansea.
Our Latest Book – Found a Penny; The Memoirs of a Crafty Dog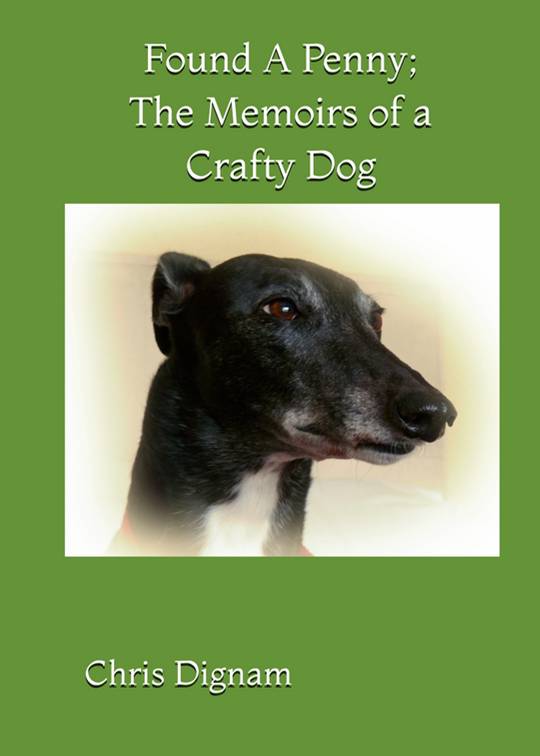 This is the true story of Penny; the Crafty Dog.
A wonderful greyhound born in Ireland and raised to race.  First a winner, then a loser – abandoned and rescued to become a fabulous family member and an ambasador for the Greyhound breed.  These memoirs, in her very own words, are about how she goes from ex-racing greyhound to media celebrity.
Read of her journey – from rescue to sofa – from a greyhound's point of view. Along the way she learns to cope with her Crafty family, meeting people and rep[resenting her breed at talks and meet and greets.
Penny tells of her travels and experiences abroad – including Flemish Stew! Despite her demons, she'll make you laugh, cry and then laugh again…and you might gain some canine culinary tips along the way – she is the Crafty Dog, after all!
The Winter Hare
The mighty Finn and his friends Rubbish the rabbit hound and Jeffrey the marmalade cat are surprised by a winter that seems without end. Across the fields the rabbits find spots of red and strange footprints in the snow – as they examine them a mysterious figure watches from the trees. Two hunters with guns and vicious dogs are searching too.
Who is this Winter Hare they are hunting, how can our heroes protect her and get her safely home? What if she never gets home? As all this is unfolding, deep underground, a black and white army is preparing to march…
This is an exciting tale of mystery, adventure and old magic, hairy heroes, dark villains and an ancient marmalade cat with arthritis, attitude (and more than a hint of anchovies!)
It's the 2nd in the Largest Rabbit series; it can be read as a follow-on or as a story in its own. Age 8 – 80! Check it out on our Crafty Dog Books page Here!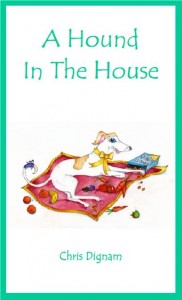 A short article in the Greyhound Rescue Wales magazine grew into a short story then a book, telling of our rescued hounds as well as our foster dogs. We learned a lot of invaluable information we felt we could pass on to other dog owners or prospective foster-parents, as well as telling a story with laughs and tears along the way. After publishing on Amazon Kindle, such was the public response that Mr Crafty Dog decided to take the plunge and start a publishing company for this book but also for any first time authors who want to take a step into the world of niche publishing.
The first book, A Hound in the House is available from this website as well as from bookshops across South Wales and the internet.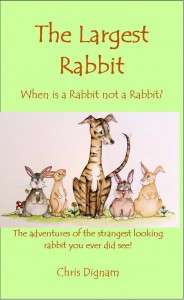 Our first children's book is called The Largest Rabbit. It is both delightful and funny and introduces many fabulous characters. It is the first book in the "Largest Rabbit/Rubbish the Rabbit Hound" series.
For more information look at the Crafty Dog Books page and the web shop

The current Crafty Dog?
Well that'll be our Penny. She is our mascot and company Director. Who says it's a dogs life – see her blog and see how a rescued greyhound lives these days!
Links