A Marmalade Cat?
This is a chapter from a book released a few years back called "Greyt Expectations – From Rescued Greyhounds to Marmalade Cats" and is a collection of the blog posts from here and the South Wales Evening Post pages, along with some other pieces about writing, music – and a marmalade cat called Jeffrey.  I hope that you enjoy it and feel free to tweet, reblog or share.
If reading to children is the best fun you can have, making them laugh, making them gasp or even hide behind their hands in fear of the wicked fox or nasty hunter with his gun, the next best thing is sitting with a pen and paper, or a computer keyboard and dreaming up the characters themselves. Ideas for stories seem to come at the strangest times, usually when lying in bed at night, or out walking the dog when you have the space and time to empty your mind and let it ramble. Someone has said there are only three or four stories; everything else is just a variation on that. That might be true, but there is a heck of a lot of scope for that variation.
One evening driving home from work at local authority council offices I was stuck in a jam queuing on the slip road off the M4. As I listened to music I began to run some ideas around in my head. I wanted to write a book about a recued greyhound that would appeal to children but it needed a twist. The idea then changed to an abandoned puppy being left and brought up by other animals – I guess from the Tarzan idea, or even the Ugly Duckling by Hans Christian Andersen. Rabbits – who had never seen a puppy, and a puppy who had never seen rabbits seemed to work. I started roughing up some ideas that evening, and from the first lines about the speeding car and the flying sack I was away.
Within a day or so I had the first rabbit characters and that of the little hound but I did not have a name. It was a few days into the book when the little character told the rabbits that the humans said he was rubbish and that's where his name came from – the little puppy named himself! So Rubbish the rabbit hound was born.
I was sketching ideas for a plot, something simple with a villain – a fox fitted naturally into this – and also a hero. Someone needed to be able to tell the little confused rabbit into the great secret, that he was not a rabbit at all but a dog, but it had to be done by a special character that everyone in the book could look up to, but especially the little Rubbish. A noble beast, a great hound was obviously the person we needed and just as the character was forming in the story, the idea of it being The Mighty Finn popped into my head.
How could they meet? Where? I remember reading The Secret Garden by Frances Hodgson Burnett and also seeing Tom's Midnight Garden when I was a kid on children's TV. Looking back now, I guess there was also The Herbs, an animated children's programme which used to be on Watch with Mother, where there was a wall, and a door which opened into a mysterious garden. The red brick wall and green wooden door were here.
I had a hero, mentor, villain – even weasel henchmen for the villain – but no comic character. This was going to be interesting. Who would be a heroic but comic figure? This was a challenge and I mulled this over for a few days. I was sitting in the office, looking round the room and there, sitting on the exercise bike was an old cuddly toy I had bought for Armelle years ago when I had been in university – a dusty old Garfield. That was it – a dusty old ginger-marmalade cat sprang to life. A well-bred and distinguished moggie, I christened him Jeffrey. He was going to be heroic but flawed – courageous and devil-may-care, he was also very vain and self opinionated, His age meant that he would be a bit creaky – arthritic with a dodgy back, few teeth and bad breath. I now realise that Jeffrey had a lot in common with Tiger, a ginger moggie that Armelle had when I first met her. She too had few teeth, some bald patches, hayfever and was a very good age. I think there was more Tiger than Garfield in our Jeffrey.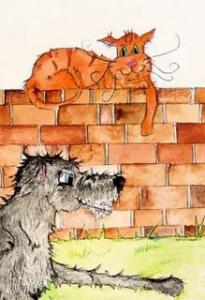 The Mighty Finn and Jeffrey the ancient marmalade cat
Of all the characters, I love writing for Jeffrey. He is wonderful and things just happen to him; he is the reason that cat-slide roofs exist, was made for flying goggles and a woolly scarf and is crying out for a book of his own. When it came to the Hallowe'en story, Jeffrey was now known as "The Professor" and it was his genius that helped turn the tables on the ghosts. When I do book readings, the kids all love to hear about Jeffrey, and when I gave him his voice, those wonderful rounded vowels of this cat, owned by a retired Colonel who lives next door, it was very easy for him to take over.
The story wrote itself once I had the cast. I just followed where Rubbish, Finn and Jeffrey led, to be ambushed by the Fox but through the bravery of a little rabbit the tables are turned and the good guys win (as they always should in a children's book).
The next book, The Winter Hare, was going to be a bit darker. Not intentionally, it just wrote itself that way. The influence of the Green Man, the Celtic Hare and the powers of nature were going to be the main elements here. The hunters chasing the hare hark back I guess to the hunters of Peter and the Wolf, but far, far darker. There they are trying to catch the hare – but why? In the dark shed we find out – a shelf full of animal bits, wood shavings and glass domes – taxidermy!
The darker the villains, the brighter the heroes have to become. Finn is probably his most noble in this story, and Rubbish is…just himself, but even more humorous, curious and wide-eyed.
Other cast members are the hunters dogs; two equally evil and terrible lurcher dogs with huge teeth and vicious appetites and tempers to match, and the third hound, a reluctant hunter called Flower. Her role – well, you'll have to read the book to find out what transpires.
The final set of characters are the army of black and white that is marching towards climax of the book – the great showdown. They are an army of badgers. They might hark back to my days working for the National Trust in the 1980's at Dinefwr Parc in South Wales. There were a number of badger setts in the deer park and I was lucky enough on a number of occasions to have sat and watched them playing outside in the warm red dusk of a summer's evening. I was roped into taking part in the local village quiz tournament in the National Trust team. We eventually won the contest and the trophy still sits on our mantelpiece after all these years. The quiz-master for the series was Aeron Clement, a self-confessed Badger-nut who loved the black and white beasts – so much that he wrote a book about them, called "The Cold Moons". It came out a few years afterwards and became a best seller. There may be a passing nod to Aeron in my characters. He was a lovely chap but unfortunately he did not enjoy his success for long as he passed away soon after it came out. He had written a sequel which was finished by his wife and daughter and it was also successful.
The Largest Rabbit is available digitally, as is the Christmas short story.  The Hallowe'en story "The Haunted Castle or Rubbish and the Hound of the Basquet de Villes" is also available on the blog pages here, and will be out again ready for this Hallowe'en.