We have been asked by customers whether we can also make cat glassware, so now we do! They are available as silhouettes in traditional black or a range of colours, as well as cat portraits. We also do a cat silhouette fruit bowl and a matching vase. We make drinking glasses in many different designs, which can be personalised and made to order. See our range of Cat products in our shop Here.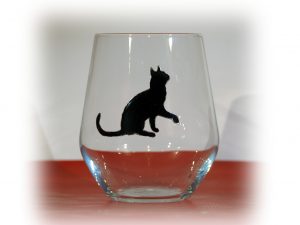 Gin Glasses
We make 2 diffrent styles of gin glass – the rounded one and the tall stemmed one. Both are available from oiur webshop Here.
Mugs
These glass mugs are heat-proof and ideal for a mug of hot tea or coffee, or even your hot-toddy! The wonderful cat silhouettes can be in the traditional black or in a range of other colours. See the item here

Tumblers
We have a range of cat silhouette tumblers available; this one is the most popular but if you look in the shop there are some others also available. See the Cat Tumblers Here.
Fruit Bowl
This is a lovely glass fruit bowl with a set of colourful cat silhouettes around the bowl. Fantastic for fruit, it is also lovely with tea-lights as a lantern. See the Cat Fruit Bowl here.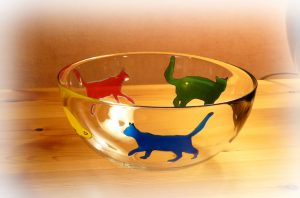 Cat Wine/Beer Goblets
Our range of coloured silhouettes can also be created on wine/beer goblets, or pint glasses or tankards. If you can't see what you want, just ask! See the Cat Goblet in the shop here.