The Winter Hare – Our New Children's Book – Available Now!

Following on from the huge popularity of The Largest Rabbit, readers have begged for a sequel so here it is.  The Mighty Finn, Rubbish the Rabbit Hound and Jeffrey the Professor ride again!
(The book was released on the 27th September 2018 and is available now. )
The Mighty Finn and his friends Rubbish the rabbit hound and Jeffrey the marmalade cat are surprised by a winter that seems without end.  Across the fields the rabbits find spots of red and strange footprints in the snow – as they examine them a mysterious figure watches from the trees.  Two hunters with guns and vicious dogs are searching too.
Who is this Winter Hare they are hunting, how can our heroes protect her and get her safely home?  What if she never gets home?  As all this is unfolding, deep underground, a black and white army is preparing to march…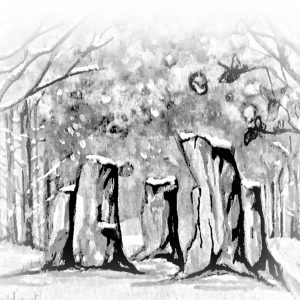 This is a tale of mystery, adventure and old magic, hairy heroes, dark villains and an ancient marmalade cat with arthritis, attitude (and more than a hint of anchovies!).  Once again, the Mighty Finn the deerhound and Rubbish the abandoned greyhound who now protects the rabbits are called on to rally the friends and try to save the day. And Jeffrey the cat does his bit too!
It's the 2nd in the Largest Rabbit series; it can be read as a follow-on or as a story in its own.  Age 8 – 80!
For your copy, click Here for UK postage, Click Here for Europe/Eire Postage, or Click Here for USA/Canada/Australia Postage.  If you'd like more than one copy, Contact us for an accurate postage cost.  To have a book dedicated, add your request in the information box on the Order page.