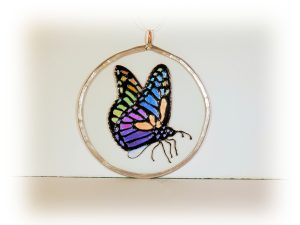 As well as our drinking glasses we produce our designs on many other types of glassware, such as the suncatcher above or the fruit bowl below.
Fruit Bowls
We produce a range of hand-painted fruit bowls in a number of designs (see Here). Our dancing dogs bowls are very popular, but we have also made ones with oranges, cats, Welsh Dragons & Daffodils, – or if you have something you'd like us to make for you, contact us.
Beautiful Bees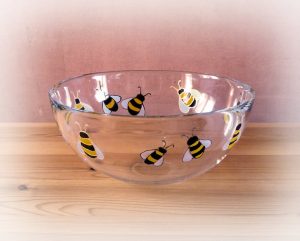 We produce a range of glassware with Bee designs, including fruit bowls, Stemmed and Round gin glasses, Beer/Pilsner glasses, tumblers and suncatchers. Look in the Shop HERE.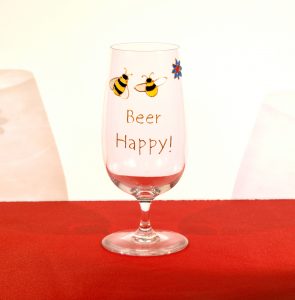 Available in 4" and 6" glass rounds or squares, leaded and with eyelet attached, these are in a range of designs including Poppies, Daffodils, Tudor Rose, Iris, Greyhounds.
We also make Angel Hound 4″ suncatchers, which can be used as Christmas tree decorations, or memorial pieces, or just as a plain tree decoration.

For our Galgo and Podenco designs we donate £1 from each one we sell to the rescue charity, Galgos del Sol.
Bespoke images can be produced to order – contact us with the image to be used. Click here for more information.
Vases and Other Glassware
We have hand drawn and hand-painted glass vases, many on hand-blown glass. See the images here. These are one off or can be made to order if we do not have them in stock.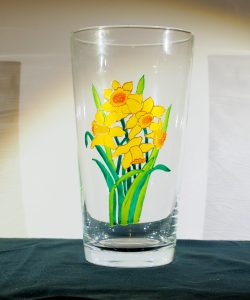 Doggies & Animal Glassware
We make a range of animal designs glassware; mostly dogs but also cats, horses, an elephant – even a kangaroo and a fish called Roger! Take a look here.