Crafty Dog – Spreading Our Jams and Chutneys Across South Wales!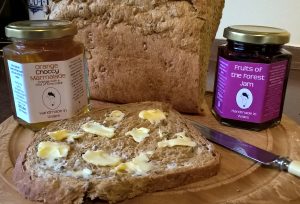 If you'd like to buy our products from a shop rather than on-line, you can get them from the following outlets;
Our Jams, Chutneys and Marmalades are available from the following shops and outlets:
Andrew Phillips, The Butchers Shop – Clydach
The Coterie, Clydach
Thornhill Farm Shop, Cardiff
The Old Barn Tea Rooms, Pontsticill
Forage Farm Shop & Kitchen, Cowbridge
Penyfodau Fawr Farm Shop, nr Gorseinon
Siop Ty Tawe, Swansea
Or direct from us at the Kitchen at Crafty Dog Towers here in Capel Road, Clydach.
A Glass of Our Own!
Our glassware is available from
Thornhill Farm Shop
The Coterie, Clydach
Siop Ty Tawe, Swansea
Or from the Gallery here at Crafty Dog Towers in Clydach.
Crafty Dog Books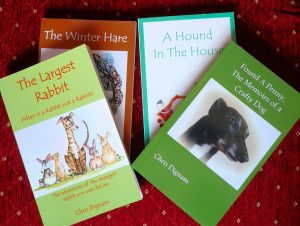 A Hound in the House and The Largest Rabbit ,The Winter Hare and Found a Penny are available from the following outlets;
Signed & Dedicated copies are available from our webshop
The Old Barn Tea Rooms
Amazon
As well as on digitally for Kindle from Amazon.
Craft Fairs, Markets and Trade Fairs
We are often at Craft Fairs around South Wales, including The Craft & Produce Market in Cwmavon and the Skewen Food & Produce Market. Look out for us – or pop us an e-mail to see where we are next! If you know of a fair that you think needs a Crafty Dog, let us know.