Description
The Largest Rabbit
The adventures of the strangest rabbit you have ever seen!
This is the story of how Rubbish discovered that it's not what you are but who you are that is important.
 Along with the other rabbits, meet the incredible huge and hairy Finn, the Scottish Deerhound who lives in his secret garden, and his friend Jeffrey the brave though gummy, balding ancient and creaky marmalade cat. Together the three four-legged musketeers help Rubbish find out who he really is.
But unknown to them all, out there in the deepest and darkest part of the woods something wicked is stirring. Only Rubbish and his friends can protect the Rabbits.
 But will they make it in time…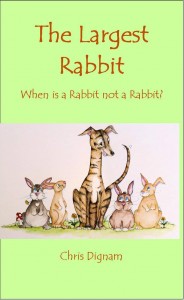 This is a fabulous little book which introduces the charming little bundle of fur who becomes Rubbish the rabbit hound.  You will also meet the wonderful Finn, the huge and hairy deerhound who taakes the little Rubbish under his wing so to speak, and Jeffrey, the well-bred ancient marmalade cat renowned for his ingenuity and terrible breath!  This is the first of series of adventures involving Rubbish, Finn and Jeffrey.