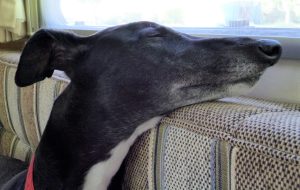 Good evening everyone!  I have had another busy weekend.  It all started with the Boss (that's what he thinks I call him anyway) taking me along to a school in Ystalyfera to a reading of the new book to a group of very well behaved guys in year 6.
They all seemed to really enjoy him reading "The Largest Rabbit", and they were so disappointed when he had to stop.  In fairness, he couldn't read ALL the book or they's have nothing to read themselves!  Afterwards the guys asked the Boss some very searching questions about the bok and also about MEE!  It's wonderful being so popular.  I even did some of my Sit and Stay tricks to show them how clever I can be.  When the boys and girls went out into the yard for break I wanted to follow them and play too but I was not allowed.
It can be really tiring being a celebrity.
Saturday the Boss and Mrs Crafty Dog went to a Craft Fair in Clydach and I was left witha project to do; how quikly could I empty a Kong of all the bits of food.  I tend to get a bit tired after a while and sleep a bit so that when they come home I have some bits left and I have to show them what I can do.  The Boss seems to find this interesting and sometimes he helps me to get the bits of food out.  Begs the question why he put it in there in the first place!
Today we went over the cricket pitch and I had a really great time running around chasing my ball and bringing it back to the Boss.  When I am really good at this he gets out another ball so I have to drop one in his hand then speed off for the other one.  I keep this up for a few times then I get tired so have to slow down a bit.
Hey ho.  Another book reading at 2 schools on Tuesday.  Will keep you updated,
Penny, the Real Crafty Dog Cymru.