An Incredible Range of Even More Incredible Jams!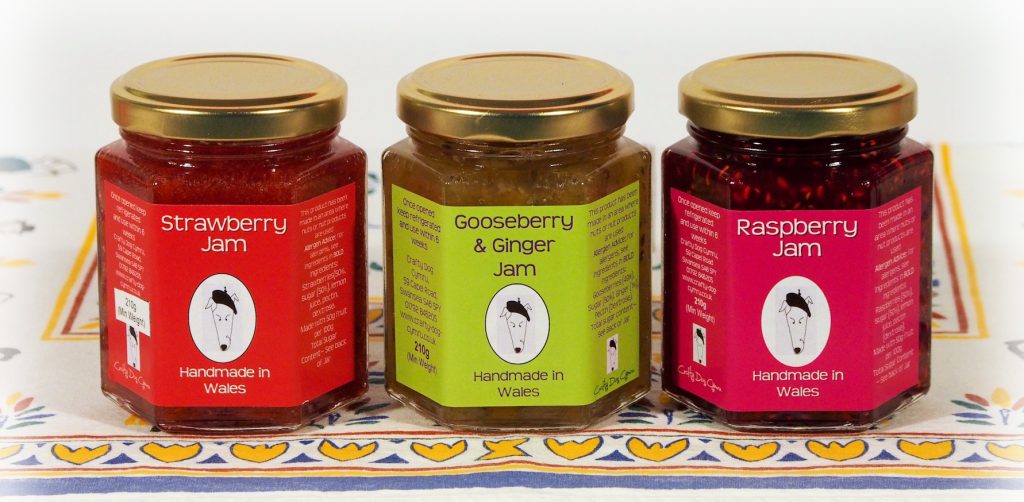 We produce an incredible range of jams, all handmade in the Crafty Dog kitchen here in Swansea, South Wales.
We have recently been certified again as 5 stars on the Scores on the Doors (for our third consecutive time) – you can't get better!
Here is a list of our range of Jams, Marmalades and Chutneys. Some are seasonal, so check with us first before placing an order.
Blackberry Jam
Blackcurrant with Creme de Cassis Jam
Cherry Jam
Gooseberry & Ginger Jam
Raspberry
Fruits of the Forest
Strawberry Jam
Black Forest Jam (Seasonal)
Victoria Plum & Vanilla Jam (Seasonal)
White Peach & Raspberry Jam (Seasonal)
Hot Chilli Jam (Our Best seller)
Extra Hot Chilli Jam (For those who think the Hot one is a bit mild!)
Wickedly Hot Chilli Jam (with Bhut Jolokia) (Seasonal)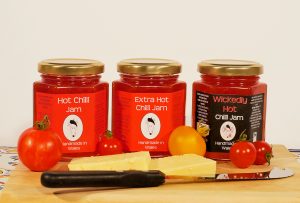 Gooseberry & Ginger Jam
Beautiful sharp and sweet Gooseberries, married with the warming flavour of Ginger. An amazing flavour, fabulous with brown seeded bread – especially toast!
Black Forest Jam
Our new wonder – a rich dark cherry jam with the merest hint of chocolate. Rich and incredibly flavoursome and unique to Crafty Dog Cymru.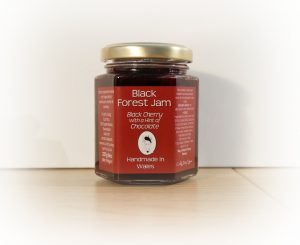 Hot Chilli Jam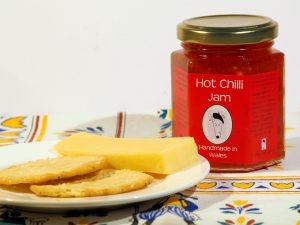 Containing only the loveliest, reddest chillis and red peppers and our special vinegar mix, this is the famously popular Crafty Dog Hot Chilli Jam. Our customers like to use it as a jam/relish, or paint it onto meat for under the grill, or add as a spicy kick to a sauce, or just in a sandwich with a strong cheddar. Why not try it in a peanut butter sandwich? This is truly a ubiquitous jam – let us know what you use it for!
Extra Hot Chilli Jam
For those who consider the Hot Chilli is a bit too mild, try this one; made with scotch bonnets, this is one more for the heat connisseur without it blowing your head off! Lovely with beef or a strong cheddar or even blue cheese like stilton or rocquefort.
Wickedly Hot Chilli Jam
This is our hottest chilli jam, made with beautiful Bhut Jolokia chillis. These arrive fresh from Bedford when in season, picked and jammed within days to preserve their natural chilli oil. A lovely sweet but very hot chilli. It may be hot but it still has a wonderful flavour – after all, it's not all about the burn. Fantastic!
Blackberry
This is an all-time favourite. However, you can't get fresher fruit than those picked within sight of the kitchen! A lovely fruity jam, simple but with a wonderful depth of fruit flavour.
Raspberry
What can you say about this – the lovely sweet but sharp flavour of raspberries, one of the classic British jam flavours. Just the thing for scones and clotted cream.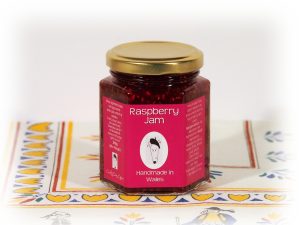 White Peach & Raspberry Jam
A new flavour, unique to Crafty Dog Cymru. Made with the finest white-fleshed flat peaches, and raspberries, giving it that lovely floral hint and sharp raspberry finish. This is an amazing jam, and you must get it when its in season (usually mid-summer to October).
Fruits of the Forest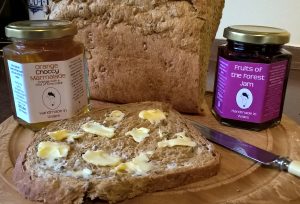 A delicious blend of raspberry, blackberry, blackcurrant, redcurrant, cherry and strawberry, a true melange of fruits and flavours, dark and mysterious like the deepest forest!
Cherry
Wow – talk of childhood memories! A taste of summer all year round. One customer has told us it's amazing with vanilla ice-cream!
Blackcurrant Jam with Creme de Cassis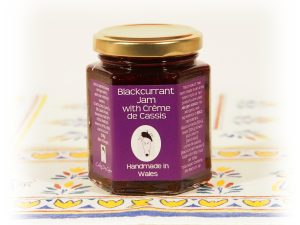 This one is an absolute gem! It has the rich currant flavour of blackcurrants and we add a shot of French Creme de Cassis liqueur to enhance that fruity depth of curranty flavour. Another flavour unique to Crafty Dog Cumru.
Victoria Plum & Vanilla Jam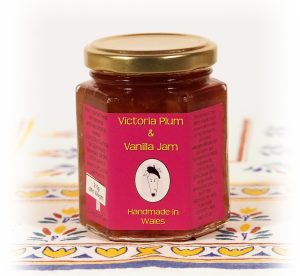 The sweetness and bite of plums with a gentle vanilla blending into the flavours on your tongue. This one is seasonal though you may be lucky and there could be a few in stock. Made with local plums when we can get them.
Now look at our range of Marmalades (Click HERE) or Chutneys (Click HERE)!