Crafty Dog Chutneys
Here at Crafty Dog Towers we make a range of traditional and not so traditional chutneys. Our first flavours were Apple and then Pear & Apple Chutneys, sourced from local trees. Since then our range has increased to include Mango Chutney, with Black Onion Seeds, a Caramellised Red Onion Chutney and Beetroot & Red Onion Chutney. Our exclusive chutneys are Luxury Apple with Apple Brandy (AOC Calvados) that smells of Christmas, a Heritage Tomato & Chilli Chutney made with at least 3 varieties of old-fashioned (heirloom) tomatoes and chillis, and a lovely Gingery Rustic Rhubarb and Ginger Chutney. At Christmas 2018 we introduced a new Christmas themed Cranberry & Spiced Orange Chutney – the ideal complement for turkey, cold meats and cheeses. Recently we have been asked to revive the Pear & Apple Chutney which has become popular with our retail outlets.
Caramellised Red Onion Chutney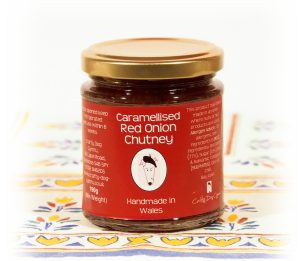 This lovely dark chutney is created by slowly cooking the onions until they become sweet and sticky.  Yum! Imagine this in a sandwich with hot or cold sausage, or halloumi cheese…..
Beetroot & Red Onion Chutney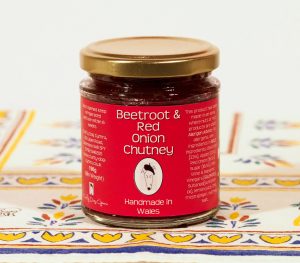 This contains so much beetroot it could almost be one of your five a day! A gorgeous chutney, with lovely sweetness, a sharp edge and a fabulous beetroot crunch for extra texture.
Heritage Tomato & Chilli Chutney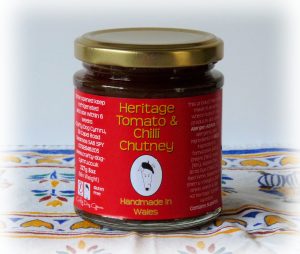 Made from at least 3 varieties of old fashioned heirloom tomatoes, such as Old Brooks, Riders Midnight Sun, Tigerella, Purple Russian, Black Russian or Yellow Plum. The chillis are the tiny masquerade or Super Hot chillis, 60,000 Scoville, giving the chutney a richness and a good tingly heat.
Mango Chutney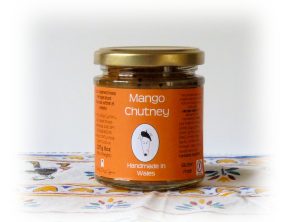 A beautiful sweet mango chutney with the slight crunch of black onion seeds. Fabulous with a curry.
Luxury Apple Chutney with Apple Brandy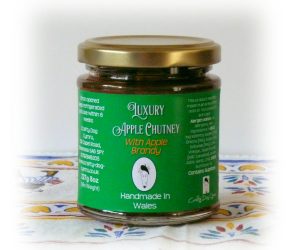 Our King of Chutneys, beautifully spiced and with a good glug of the finest Normandy Calvados apple brandy. We soak our dried fruit for 24 hours in the Calvados before cooking it. Open it and you'll get the smell of Christmas but it's too good to keep just for the Festive Season!
Rustic Rhubarb and Ginger Chutney
A wonderful chutney, packed with gingery goodness. Beautiful sharp and sweet flavour, wonderful with cold meats.
Cranberry & Spiced Orange Chutney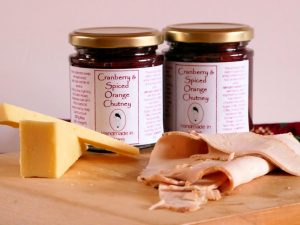 A beautiful Christmas Chutney – deep sharp cranberries, lifted with cloves and orange. The most amazing chutney for any turkey, pork or other cold meats. Give yourself a Christmas present of this wonderful chutney.

Why not try our Jams or Marmalades too?