Welsh Emblems – Dragons, Daffodils and Owain Glyndwr
Welsh Glassware with Welsh Emblems – All Hand-crafted in Wales
We do pint glasses, tumblers and wine glasses with the Welsh Dragon, or Daffodil on them.  We can even do Pint Glasses with the Dragon bearing a flag (the US Flag is shown below as an example).  All of these are hand drawn and painted here in Wales, individual pieces of Welsh art, and can be dedicated if required.  We also do a tankard with the dragon holding the banner of Owain Glyndwr, the last Welsh Prince of Wales.  See the images below.  We even do glassware with Nigel, the Crafty Sheep on them.
Prices and Postage
All items are available as UK, Europe and Eire, or USA and Canada postage costs – look in the products to see the postage and item you require.  Priced individually, contact us for a more accurate price for overseas postage costs for  multiple items.
Dedications and Commissions
All the items can be individually dedicated.  Imagine a chunky dragon tankard or pint glass as a birthday or Christmas present.
 Tumblers
Here are some examples of tumblers, all available singly, in pairs or any quantity you like!  Available as the Welsh Dragon or as a Welsh Daffodil or even Nigel the Crafty Sheep.
Handpainted Welsh Dragon Tumbler
Welsh Daffodil Tumbler
 Wine Glasses
The wine glasses are always a big seller.  Very popular as Dragons or Daffodils – available in the shop here (message us if you would like them gift boxed)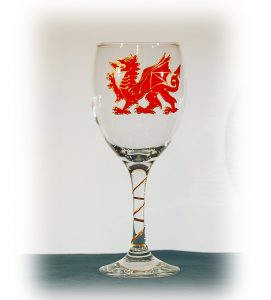 Wine/Beer Goblets
These beautiful wine/beer goblets are available as Dragons, Daffodils or Nigel the Crafty Sheep.  All hand-drawn and painted, and oven-baked to be dishwasher safe to 40 centigrade.  Click HERE to purchase.
This is our biggest seller and has been exported all round the world.  They are each individualy hand-painted and are great as dedicated presents.  Click Here to purchase.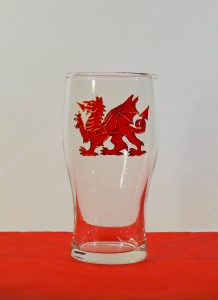 Crafty Sheep Pint Glass
Well, it had to be done…  Here are the famous Welsh Sheep on a pint glass.  They can be Welsh – Cymru – or Anglo-Welsh – Wales!  Make any ex-Patriot Welshman feel homesick!  Yes, this is Nigel the famous hang-gliding sheep who lives on the hills above Crafty Dog Towers.  Watch out – low-flying lamb!  Available Here.
These tankards are a lovely heavy glass, beautifully made.  Stunning to look at and to hold, dishwasher safe to 40 centigrade they catch the light beautifully and can be dedicated or named if required.  Available on the shop here.
The Owain Glyndwr Tankard
This is a real piece of Welsh history and depicts the Welsh dragon holding the banner of Owain Glyndwr, the last Welsh Prince of Wales.  Descended from the Princes of Deheubarth (South West Wales) and Powys (Mid Wales) he led a revolt from 1400 until disappearing into the mists of time after 1410.    A wonderful piece of individual Welsh artwork.