Greyhound Glassware
We do a range of glassware with handpainted greyhound designs, all available through our Shop – click here!
Celtic Greyhounds
We make Celtic Greyhounds on wine goblets and cider glasses in a couple of designs.  The goblets and cider glasses are made from a  lovely chunky glass, that feels wonderful in the hand and has a lovely satisfying weight.  They are all handpainted and oven baked to make the designs dishwasher safe. The glasses can be sold in pairs (they do get lonely on their own!).  Check them out here.
 Dancing Dogs 
These are available as Goblets, Cider Glasses or tumblers and  show a row of Celtic dogs chasing each other around the glass.  They can be found here.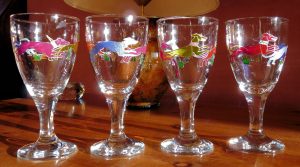 Again, handpainted, baked and dishwasher safe.  They are also available as a Fruit Bowl or a Vase.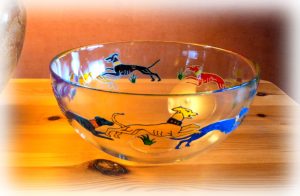 Greyhound Silhouettes
We have a number of different greyhound silhouettes in a variety of different glass designs – tumblers, pint glass, mugs, goblets or tankards.  Here are a couple of examples.
Greyhound Portrait Glasses
These are shown here as glass mugs but they can be made as Pint Glasses, Tankards, Cider Glasses, Tumblers, Mugs or Wine Glasses and also dedicated.