Flower Designs on Glassware
Crafty Dog Cymru produce a range of hand-painted Flower designs on Glassware,  wine glasses and goblets.
We can make them to order, any colour you like, and dedicate them as well.
They have all been baked so the paintwork is dishwasher safe so will probably outlive the actual glass itself!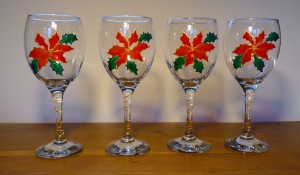 | | |
| --- | --- |
| We make a range of flower glasses.  Here are our wine glasses, available in a range of  patterns. | |
|   | We have goblets as well as wine glasses, and they are available in a number of different designs – such as the examples to the left here. |
| | |
| --- | --- |
| |  Have a look at the shop for the list of products – they are available in singles, pairs or fours. |
| |  All available from the Shop – Click HERE! |