Beautiful Suncatchers or Wallplaques
Here are some of the lovely leaded suncatchers all handmade and available from our shop.  They are all hand painted and edged with lead, with a hanging loop.
We do 4 inch and 6 inch rounds as well as 5 x 7 and 8 x 6 rectangular.  Our most popular designs are greyhounds and butterflies.
We produce some suncatchers exclusively for the rescue charity Galgos del Sol but we also produce some Galgo and Podenco designs of our own available from our shop. For each of our own Podenco and Galgo suncatchers we sell we will donate £1 to Galgos del Sol.
Anything that we have drawn on our glassware can be produced as a suncatcher – just pop us an e-mail and we can discuss what you would like.
Available through the shop HERE.
Celtic Artwork
We do a range of Celtic designs on suncatchers.    They include an orouboros, Celtic greyhounds and a Celtic hare.  Click HERE.
Greyhounds
These are some of our Greyhound designs.  Click HERE.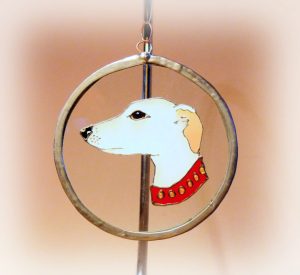 Some are based on pictures of our greyhounds Sally, Sam and Penny.  Black dogs are difficult to capture as they are not black but a myriad of shades from silver, white to black.
We also do a 5×7″ rectangular suncatcher with a greyhound on and the legend "If No-one else cares, My Greyhound still loves me" available as a black, white or fawn and white hound.
Galgos and Podencos
Our Galgo and Podenco suncatcher/wall plaques have proved very popular.  Click HERE.
The Green Man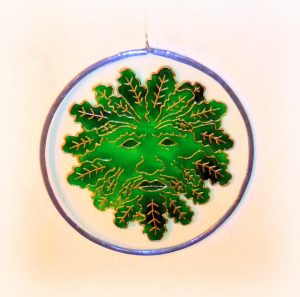 Our Green Man design has proved so popular that we also have it as a summer and autumn design.  Click HERE.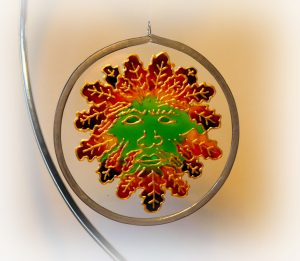 Butterflies
Another really popular design.  Click HERE.