Taste the Magic – Jams Chutneys & Preserves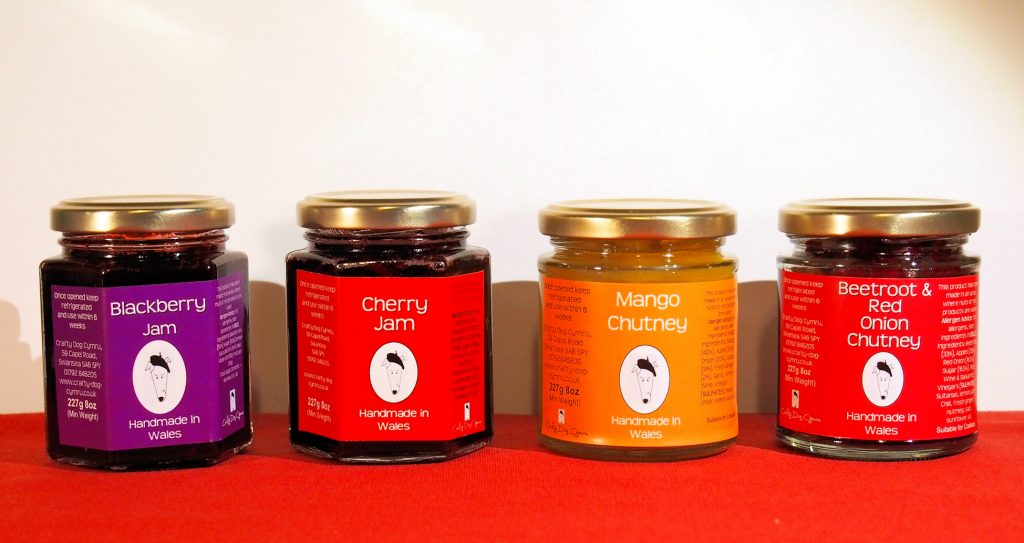 Crafty Dog Preserves Cymru – As Seen on TV!
The Sign of the Crafty Dog
We are artisan food producers, making a premium quality product by hand in small batches here in South Wales.  When we say "Handmade in Wales", our jams, chutneys and marmalades truly are.  We use the best quality products we can get those hands on, and even import some supplies if we think the high quality warrants it.  We make some of the usual suspects, such as blackberry jam or cherry jam, but then we also make our own special flavours such as Blackcurrant jam with Creme de Cassis French liquer, or Luxury Apple Chutney with Apellation Controlee Calvados apple brandy from the Pay d'Auge in Normandy (Mrs Crafty Dog is half French, after all!).  One of our recent products is Black Forest jam, made from black cherries and a chocolate syrup which gives a hint of chocolate, and takes you back to the Black Forest Gateau of the 1970's but without all the calories!
We try to keep our list of products up to date – check HERE but if you have any questions contact us HERE.
Trade and Retail
We can supply trade outlets (and already do across South Wales) and also sell to the public from our premises, or at craft and food fairs.  Just pop us an e-mail at info@crafty-dog-cymru.co.uk  .  We also do mail order from this site but only in the batches of 3 mentioned below – so it's more economical for you as the customer.  I will say that you can definitely taste the difference in our products – we really are very good!
Allergen Advice
For allergen advice, the page HERE has a table of our products and any associated allergens.   If you'd like any further infromation please do not hesitate to Contact Us.
Food Hygeine Rating
February 2019 we were awarded our third consecutive 5 star food hygeine rating by the local authority's Food Safety section on behalf of the Counci, The Welsh Governent and the Food Standards Agency.  5 is the highest rating possible.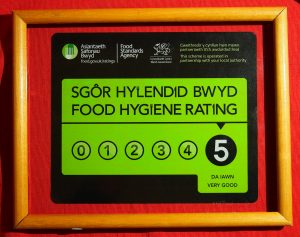 How it all began…
One year we had a glut of chillies in the greenhouse and not wanting to waste them Mrs Crafty Dog hit upon the idea of making Chilli Jam. This first batch of 8 jars sold so quickly we never got to taste them! Disappointed with the high sugar/low fruit content of mass market jams we decided we wanted to make jams to taste the way they did when we were kids; to that end, the batch of strawberry we made was to the high fruit content of French jams. It tasted fabulous! Blackberry and Blackberry and Apple followed, along with Apple and Pear & Apple Chutneys.
We began by selling through our local craft fair in Clydach but this expanded to Craft Fairs across South and West Wales. The business has grown like Topsy. We now supply shops in Swansea and are expanding across South Wales – The Coterie and Phillip's The Butcher in Clydach, Swansea, The Crafty Parlour in Pontardawe, Thornhill Farm Shop in Cardiff, Tuckers Bakery in Pontypridd, Sprokwobbles Deli in Usk, and The Old Barn & Coffee Shop nr Pontsticill, Merthyr – we are always looking for new outlets!
This year we are producing our original 210 gramme (marmalades & jams) and 190 gramme (chutney) jars and a smaller range of 113 gramme jars which we plan to sell in sets of three which makes postage more economical.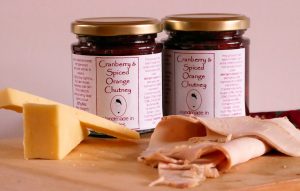 The range of jams and chutneys is also expanding. Our famous Hot Chilli Jam (the original) still sells best of all but other popular flavours are Yellow Plum and Vanilla (made with Herefordshire Yellow Pershore Plums when in season), Heritage Tomato and Chilli Chutney (made with at least  three old fashioned varieties of tomato) and then by popular demand, an Extra Hot Chilli Jam made with Scotch Bonnets. Some people still wanted their palates stretched further, so we introduced our Wickedly Hot Chilli Jam, made with Bhut Jolokia Ghost chillis, as well as a Flaming Lime Chutney made with Trinidad Scorpion chillis.  But keep your eye on the site as the range does change a little with the seasons and there's always something new and interesting to try!  January 2019 and our latest flavours which proved popular over Christmas were Cranberry & Spiced Orange Chutney and Gooseberry & Ginger Jam –  more unique Crafty Dog Cymru flavours.
Sets of Jams, Chutneys & Marmalades – Choose Your Own!
To make postage more economical, we sell our products as sets of three.  Pick any three varieties, in either a 4 ounce set or an 8 ounce set.  Maybe you want three jams, or three chutneys, or maybe one of each or even three jars of the same!  The choice is up to you.  Set of 3 Click HERE.
Here is a list of our range of Jams, Marmalades  and Chutneys.  Some are seasonal, so check with us first before placing an order.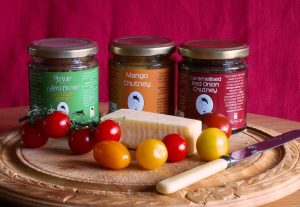 Our Jams
Strawberry & Vanilla
Blackberry
Fruits of the Forest
Cherry
Gooseberry & Ginger
Hot Chilli Jam (Our Best seller)
Extra Hot Chilli Jam (For those who think the Hot one is a bit mild!)
Wickedly Hot Chilli Jam (yes, this is very hot!)
Blackcurrant Jam with Creme de Cassis
White Peach & Raspberry Jam
Black Forest Jam
For full description and Jam details CLICK HERE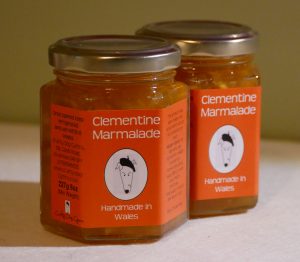 Our Marmalades
Orange & Grapefruit
Lemon & Lime
Clementine
Orange Choccy (Orange with a hint of Chocolate)
For full description and Marmalade details CLICK HERE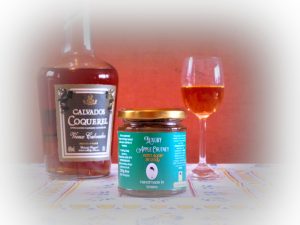 Our Chutneys
Luxury Apple Chutney with Apple Brandy (with Boulard XO Calvados!)
Rustic Rhubarb and Ginger Chutney
Caramellised Red Onion Chutney
Beetroot & Red Onion Chutney
Heritage Tomato & Chilli Chutney
Mango Chutney
Runner Bean Chutney
Cranberry & Spiced Orange Chutney (available in the Autumn for Christmas or Thanksgiving)
For full description and Chutney details CLICK HERE
Check out our SHOP to buy sets of preserves