Glassware & Hand-Painted Artwork
 Crafty Dog Designs Cymru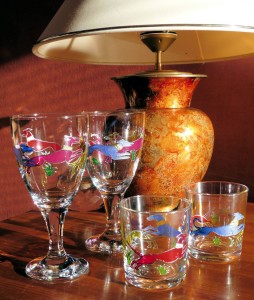 Crafty Dog Designs Cymru produce a wide range of hand-crafted artisan glassware from new and recycled glass.  It all began when we started making lanterns and glass suncatchers for a local craft fair and it has grown from there.  We also hand-draw and paint drinking glasses in many different designs, which can be personalised and made to order.  For examples, see Commissions page (click HERE).
We even support rescue charities such as Galgos del Sol (see our Galgo and Podenco suncatchers).
We make a wide range of drinking glassware, all hand-painted and baked in the oven to make the artwork dishwasher proof.  We have a number of ranges;

Scottish Deerhounds
Podencos & Galgos
The Green Man – the Spirit of the Woodland
Welsh Emblems – Dragons, Daffodils, Owain Glyndwr and Crafty Sheep
British Emblems – Roses, Saltires, Shamrocks & Dragons
WW1 Commemmoration,
Christmas Glasses

These are also available as tumblers, pint glasses, crystal tankards, wine glasses and can all be personalised with names. Fab as Wedding Favours or souvenirs. These have all been baked and are dishwasher safe.

Goblets

We produce a wide range of designs on gorgeous wine/beer goblets (click here). They are hand-drawn, handpainted and baked to be dishwasher proof to 40 centigrade. If there is a design of your own that you would particularly like, let us know.

Look – More Glassware!

Fruit Bowls

We produce a range of hand-painted fruit bowls in a number of designs (see Here).  Our dancing dogs bowls are very popular, but we have also made ones with oranges, cats – if you have something you'd like us to make for you, contact us.

Available in 4" and 6" glass rounds or squares, leaded and with eyelet attached, these are in a range of designs; Poppies, Primroses, Daffodils, Tudor Rose, Oruboros, Iris, Greyhounds.

For our Galgo and Podenco designs we donate £1 from each one we sell to the rescue charity, Galgos del Sol.

Bespoke images can be produced to order – contact us with the image to be used.  Click here for more information.

Vases and Other Glassware

We have glass vases either handpainted or with leaded acetate. See the images here.

These are one off or can be made to order if we do not have them in stock.

 

Doggies & Animal Glassware

We make a range of animal designs glassware; mostly dogs but also cats, horses, an elephant – even a kangaroo and a fish called Roger!  Take a look here.
Check out our SHOP to see our Glassware